In this article, you will learn more about:
Searching for customers
The search bar on the Customers page allows you to search for specific customer profiles. You can search by the customer's first name, last name, full name, email address, phone number, or address.
Enter a search term into the box marked with a magnifying glass, and your customer profile list will be updated to show you the customers that match that search term.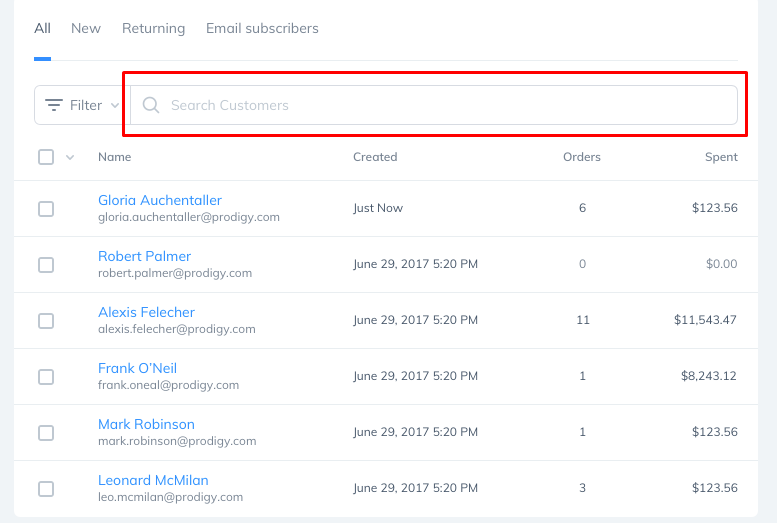 Filter the customer list
Although searching is useful to find a single customer profile, filtering allows you to see all of the customers that match one or more criteria. From your Prodigy Commerce admin, you can filter customer profiles by:
Number of orders
Money spent
Accepts email marketing
Located in (Country)
Date range when customer profile was created
Steps:
From your Prodigy Commerce admin, go to the Customers list
Click Filter


Select the filter condition values that you want
Click Apply



The customer profile list will now show the customers that match your filters. You can move between pages if there are multiple pages of results by clicking the page links at the bottom of the list.
Below the filter and search bar, you will see labels that summarize all of the filters that are currently active. Click the x on the label to remove a particular filter.
Creating customer groups
After you've applied one or more filters, you can save that filter as a customer group that you can easily access in the future. When you return to your Customers list you will see links to all of your saved customer groups just above the search and filter bar.
Customer groups can be used with our Coupons feature to allow you to create promotions for specific customer groups. When creating a coupon, you will see the option to select one or more saved customer groups that are allowed to use the coupon. See our creating coupons article for more information on this feature.
Steps to create a customer group:
Select the filters that you want to apply to the customer group
Click the Save Search button to the right of the search bar


In the Save Search dialog, enter a descriptive name for the customer group


Click Save to create the customer group